"The thought of it makes me nervous and I don't really want to do it, but I know it will be good for us and that we need to have these conversations."
These were the closing words in a discussion at our PCC (church council) meeting as we decided whether to take part in the Changing Lives Conversations. And they captured what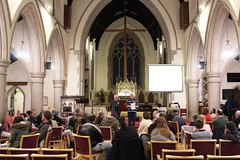 most of the people in the room felt – talking about our faith, and about how God might be changing our lives, makes us feel uncomfortable. We worry that we don't have the 'right' kind of experiences, or the 'right' words – and anyway, we're British and we don't talk about this kind of stuff. But we know that somehow we still need to do it. We know that this matters, and if we – those who stand up and declare our faith in church every Sunday – can't talk openly and freely about God, why on Earth would anyone else?
And so, two months later, at our next PCC meeting, we started by asking each other, "How is God changing your life at the moment?" and "How can we help each other be seven-days-a-week disciples?"
I was a bit nervous about how the conversation would unfold – these were not the normal questions we discussed at PCC. Talking about property, events and even finance felt like much safer territory. I feared the awkward silence that might follow. Would anyone be brave enough to start? Would anyone say anything at all?
40 minutes later, after a profound discussion about God, prayer, the struggles and joys of life and the place of faith in each of our lives, I had to close the discussion down so we could move onto the business agenda! We had talked in a more personal way than ever before – and God had been at the heart of that discussion. Everybody spoke, and everyone listened with great care. Rather than the awkward silence I had feared, we had each shared our experience of God and we were each blessed by what we heard.
How is God changing our lives? In big ways and small ways, in ways we can put into words and in ways we cannot possibly describe. In prayer, acts of service and a sense of calling on our lives. It's different for each of us, but we all had something to say.
We're going to ask the same questions again when we next meet, and we'll carry on asking them for the rest of the year – and I can't wait to see what happens.
Revd Hugh Nelson, Christ Church, Kilndown