The Social Justice Network brings people together to share best practice and build capacity. Issues of low income, debt, lack of skills, poor mental health and isolation are complex and closely interlinking, trapping communities and individuals in a web of poverty.
Our vision is to see all churches, in every community, coming together to tackle these issues through action, prayer and giving. The Social Justice Network works closely with the Communities and Partnerships team at Canterbury Diocese to provide support to churches in Kent.
We aim to deliver work through innovative partnerships with other charities, voluntary organisations and local authorities. We aim to improve access to resources, make local work more effective, and create a framework for others to respond to the social challenges in Kent.
We engage with churches of all denominations, as well as faith based organisations, to encourage them to work together and with others in responding to poverty and marginalisation. We offer practical advice and guidance to parishes considering how they can better serve the socially and financially deprived in their communities.
Our diocese expresses our faith in God through work in high profile topical issue areas such as community engagement, social and environmental justice. We work closely with and develop relationships with partner networks to discern and develop new audiences for future engagement.
'The team has a range of expertise, as well as being linked into a wider network of diverse, knowledgeable, and passionate people. We aim to be a resource for deaneries, parishes, and the general community to help them fulfil their mission to work towards a sustainable and flourishing future. To this end we will increasingly shape our work in response to diocesan and Church of England priorities and in partnership with other agencies.' The Rev'd Dr Jonathan Arnold, Executive Director of The Social Justice Network.
Please click on a blue heading to see our projects and partnerships:
Our projects and partnerships
The Social Justice Network is an independent charity within our diocese that brings people together to share best practice and build capacity. Issues of low income, debt, lack of skills, poor mental health and isolation are complex and closely interlinking, trapping communities and individuals in a web of poverty. Our vision is to see all churches, in every community, coming together to tackle these issues through action, prayer and giving. We aim to deliver through innovative partnerships with other charities, voluntary organisations and local authorities.
Break the Cycle aims to end the cycle of re-offending caused by releasing people from prison into street homelessness, by means of a partnership project to provide supported housing and community support and to evaluate the effect this support has on re-offending rates. This project is led by The Social Justice Network, in partnership with the Diocese of Canterbury, CampaignKent, and others. A diocesan property has been made available to the project. A key element of this project is integrating house residents into the local community to build their self-confidence and improve their mental health and well-being.
We work with refugees and asylum seekers within the Canterbury Diocese. This role is tasked with identifying the current and future needs of this vulnerable group of people in order to guide where our diocese can most usefully provide support. This work is carried out through the important partnerships with other organisations such as KRAN.
As joint partners in the Refugee Project in the Northern France Coastal region, The Social Justice Network seeks to respond to the growing needs of numbers of migrants, refugees and asylum seekers in the area. The Diocese in Europe, the Diocese of Canterbury and USPG have shared their resources and experience to facilitate an innovative approach to ministry in this challenging context. The role is focussed on front-line working with people seeking asylum, and connects partnerships with stakeholder organisations, the Kent Refugee Programmes Manager, and other key contacts in the Diocese in Europe to deepen wider work with refugees.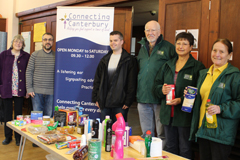 Connecting Canterbury is a network of community hubs located across the City of Canterbury, offering information and signposting alongside access to safe and responsible saving and borrowing through Kent Savers Credit Union products. In times of lockdown and social distancing we have continued to serve people by phone, text and online. With many people and families struggling to survive debt and the inability to provide for basic needs, thanks to the support of Christians we are willing to consider making small emergency grants for heating and transport etc. For larger needs such as white goods, we apply to charities and trusts such as Acts 435. We work alongside organisations such as Canterbury Food Bank, the Salvation Army, Catching Lives, Social Workers, the City Council and Citizen's Advice. We are members of Christians/Churches Together in Canterbury, but our support is open to everyone, of faith or no faith.
Chaplain to the Homeless is a new chaplaincy created during the pandemic and arising out of Jo Richards existing work with the homeless. The chaplain is the listening ear on the street, working closely with local organisations. Part of the role includes going out on early morning patrols with the outreach team as well as a weekly prayer walk around the city. The chaplain is forever mindful of the needs of all parishioners, particularly those who live on the streets, to see Christ in the other and to be Christ to the other.
Kent Workplace Mission (KWM) is a seven denominational Mission LEP supporting chaplains in workplaces across the county. Bluewater (in Rochester Diocese) pays for a half-post as Co-coordinating Chaplain, all the chaplains in Canterbury Diocese are lay volunteers, from Eurotunnel, the Port of Dover, Dungeness Power Station, Fremlin Walk in Maidstone to individual supermarkets. There are about 48 chaplains in Rochester and 18 in Canterbury.
Kent Emergency Chaplains Scheme (KECS) A network of chaplains from all denominations ready to respond to civil emergencies in support of the county (KCC) and district councils. As CTK leaders have no legal status as a group KECS has recently moved under the oversight of KWM so that a formal Memorandum of Understanding can be made with KCC.
Fairtrade Canterbury District Fairtrade group works to raise local awareness of the Fairtrade system and to promote the use of Fairtrade products to tackle the challenges of global poverty, injustice and environmental sustainability. The group works with churches, faith and belief communities, schools, universities, businesses and shops, community organisations and Canterbury City Council to promote these goals.
Clewer Initiative The Clewer Initiative is the Church of England's response to modern slavery, working to raise awareness of the issue, identify victims and provide victim support and care. We believe that the tools to end modern slavery already exist within the local community and that the church has an important role to play in leading these efforts. The Clewer Initiative works with dioceses and wider church networks to recognise and respond to modern slavery within their communities, one of the key resources used is Hidden Voices, a community mobilisation course. Nationally we have worked on projects including the Safe Car Wash App and Farm Work Welfare App, helping to raise awareness of and respond to exploitation taking place in the car wash and farming sectors in the UK.
Here are some resources where financial and practical help may be available:
How can we help you and your local community?
To contact us please call 01227 459401 or email Revd Dr Jonathan Arnold, Executive Director of the Social Justice Network on: jarnold@diocant.org
Other faith in action in our diocese
Environmental Justice is one of our key objectives. The Director of the framework is the thematic lead and with the Environment Officer co-ordinates cross-framework and cross-deanery action to deliver the Diocesan Environment Strategy and Action Plan. This includes The Environment Working Group, which promotes:
At the Diocesan Synod in 2019 a resolution was passed unanimously to recognise that we are in an environment and climate emergency. Our Diocesan Environment Policy and action plan was adopted by synod and the work of the Environment Working Group which sits within C&P has become an important part of the overall strategy.
Our diocese is registered as an Eco-Diocese and we support the work of A Rocha to encourage all our churches to engage with the Eco Church programme.
We advocate climate action through public events and speaking, press publications, seminars, and webinars, and by lobbying MPs, councillors, and authorities.
The Revd Carol Smith
The department has a number of links with overseas mission partners in Madagascar, Germany, Arras and Bec and work closely with them to ensure that knowledge and good practice is gathered and shared.
The overseas working group encourage others to engage in prayerful or practical support for partners and promote campaigns or appeals that come from our partner organisations.
If anyone would like to establish new link partnerships, we will offer support and encouragement.
The student population at Kent University is internationally and culturally diverse, with approximately 23% of students from outside the UK; a high proportion of the UK students from Inner, South and East London; and about 30% - across the board - identifying as BAME. Chaplaincy identity and services are delivered through a multifaith team, and interfaith planning/events (often in connection with a formal programme for Interfaith Week) are done jointly.
Diocesan Projects we support:
Debbie Ellisdon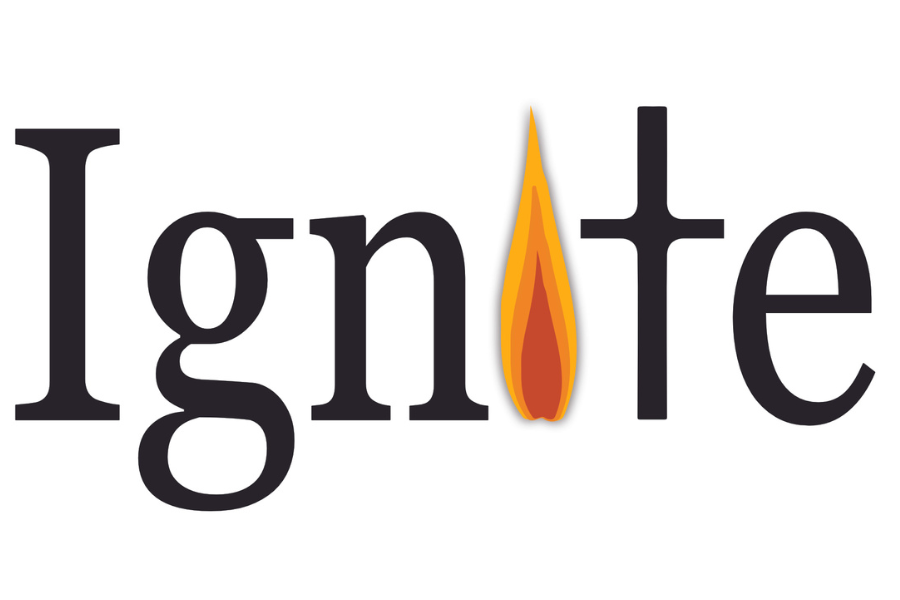 Ignite is a Fresh Expressions form of church which comprises of 8 plants across our diocese and in Guernsey. It is a combination of community outreach and weekly evening events which present the Gospel in a friendly and interactive way and enables people not engaging with traditional church, to meet Jesus and have their lives transformed. Ignite Enablers work alongside people and seek to meet their needs contextually and appropriately, while presenting the Gospel in a relational way.
The format for an Ignite evening is low-key friendship-based evangelism and is often described as a Christian version of BBC's 'The One Show' in its style of presentation. There is a mix of interactive discussions, table group activities, and multi-media audio and visual clips, as well as occasional short talks and opportunities to pray. This offers people the opportunity to engage their thoughts, and helps them to consider their relationship with God through Jesus. In this way, we hope to see people grow:
as valued and accepted people in society
by deepening their knowledge of God and how he is available to them
as Christians – through making a commitment to the Lord Jesus Christ when the time is right.
Bishop's Advisor for Rural Affairs – The Revd Seth Cooper
Our diocese has an advisor dedicated to supporting those working in the rural business sectors of Kent. We work with the Farming Community Network (FCN), a Christian charity which provides pastoral and practical support to farming families dealing with issues that cause them stress and anxiety.
While there are good opportunities for people to develop businesses and build employment in rural areas, there are challenges which can place a lot of stress on individuals, their relationships and families.
Anglican Chaplain and Dean of Chaplains, University of Kent – The Revd Dr Stephen Laird
This is a team of chaplains from across the world faiths and Christian denominations. There is a strong emphasis on offering worship on campus, as well as community-building and pastoral care.

Kent Community Safety and Coordinator with Kent fire & Rescue Service
Projects cover a range of community safety issues e.g. gangs, stalking, protecting vulnerable people.

Chaplain to the Port of Dover – David Slater
The ecumenical chaplaincy team is primarily for port workers (all companies) and passengers. Support is also given to the RNLI Lifeboat team and visiting seafarers. The chaplaincy is highly regarded across the port community and the Dover Harbour Board awarded the Lead Chaplain their 'Meritorious Service Award' for getting the chaplaincy up and running. The Lead chaplain is the accredited chaplain for Mission to Seafarers and the Sailors Society, and is the local representative for both missions on the Merchant Navy Welfare Boards Port Welfare Committee for London & South East.

Eurotunnel Chaplaincy – David Slater
There is effectively only one chaplain allowed on site. Pastoral support and visits are available to all passengers and staff. At times of high tensions, the company is happy to circulate the chaplain's details to all staff.

Disability/Access – Bishop's Advisor, Karen Adams
In collaboration with colleagues in HR we convene the Access Group which meets quarterly and looks at access issues within our diocese for both clergy and parishioners. Our aim is to ensure that disabled staff, parishioners and others feel supported and included by both parishes and the wider diocese.

Chaplain to Romani, Gypsy, and Traveller Communities – The Revd Martin Burrell
Our diocese is home to several thousand Travellers whose ancestors first came to these shores about 400 years ago. They are full UK citizens, though continue to live at the very margins of society. In more recent times many Roma from Eastern Europe have migrated west in search of work and a better education for their children. Many of these families have settled in the UK and made this their home. Whilst Gypsies, Travellers and Roma are not a single homogenous group, they all continue to suffer discrimination from the mainstream community wherever they go. When the General Synod of the Church of England debated these matters in February 2019 the overwhelming view was that we needed to do three specific things: actively challenge discrimination and racism in all its guises, press for the creation of more Traveller sites, and appoint chaplains to work with Travellers and Roma in every diocese of the land.
Our hope is to build our own chaplaincy team in the diocese as we work together to advance God's kingdom on earth.