Benedictine Spirituality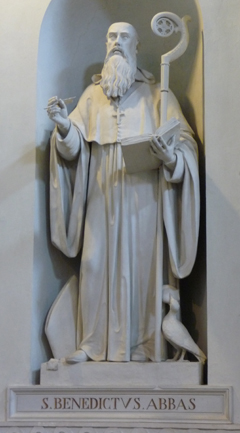 Benedict of Nursia, Italy, lived between around 480 and 547. During his lifetime, he founded a number of communities in Italy (the largest being at Monte Cassino), where he wrote his Rule, and a vast number of independent communities continue to follow this Rule to this day (see The Order of St Benedict website for a good overview and information). As well as communities of monks and nuns who live by the Rule of St Benedict, there are lay associates of many of those communities (called 'oblates'), and an increasing number of people, individually or in networks, who live by aspects of the Rule, nourished by its wisdom.
Benedictine spirituality does not require a withdrawal from everyday life, but sees holiness and the call to follow Jesus Christ in the ordinary things that we do. Christ is what binds us to one another – Jesus is present in the people we live and work with, our families, our communities. St Benedict taught that Gospel values should be part of everyday life, focusing on Christ in prayer, work and our relationships. His approach to spiritual growth looked for moderation and balance – in the Rule's Prologue he says that he intends to set out "nothing harsh, nothing burdensome" for his followers. In life, although we may experience challenges and difficult times, we shouldn't deliberately set out to make our lives harsh. The Rule of St Benedict offers guidelines for the ordering of life whatever our circumstances, as we progress on our journey of faith, bringing God's presence into every moment, helping us to seek and understand his will.
The core values of Benedictine spirituality include obedience to God and living a life of love that is centred on Christ, listening to God in all aspects of life, humility, hospitality and care of the sick. Underpinning this is a rhythm of prayer and praise that keeps us connected to God and empowers us for everything else!
Franciscan Spirituality
Saint Francis of Assisi (1181 – 1226) started a Religious Order, called the 'Lesser Brothers' because its members didn't want to own more than was absolutely necessary but live a responsible and faithful life and make common cause with people on the margins of society. They were interested both in active evangelism as well as contemplative prayer. They lived, working and preaching in most cities, but often withdrew to pray in quiet places.
The order founded by St Francis grew quickly, and Clare, Francis' friend, also from Assisi, started a section for women, called 'The Poor Clares'. They became the 'Second Order'. Eventually lay people and clergy also wanted to live, work and pray as Brother Francis, Clare and their friends did. They are called the 'Third Order of St Francis' and are a world-wide organisation. Everybody who is willing to live a simple, focused life, centred on God and serving others, is welcome to join the Third Order of St Francis.
Although St Francis lived 800 years ago, he passionately wanted to live the Gospel. The issues that concerned him are still with us today: poverty, exploitation, ecological imbalance and abuse, religious exclusion, marginalisation, prejudice... Franciscans around the world fight against these issues on all levels. Third Order Franciscans also gather in area meetings and local groups to support each other in prayer and study and celebrate the Eucharist together.
Franciscan spirituality has always emphasised the goodness of creation. Christ is the expression of God's love in the universe. From this emphasis, Franciscan spirituality sees God in all things. Central to the Franciscan Way is the Cross. St Francis saw God interwoven in an interconnected, related world – brother Sun and sister Moon.
Francis has become the patron saint of Ecology because of his love for God's creation and his interest in nature in all its glorious variety. He also became a pioneer of interfaith dialogue when he went to see the Sultan of Egypt to discuss faith issues with him rather than participate in violence against people of other faiths. St Francis' gentleness and determination still guide Franciscans today. Franciscans have produced some of the greatest teachers and thinkers in the Church. In all five continents one can find Franciscans of all three Orders, speaking out for or quietly working with the poorest and the most disadvantaged people. In this country, Third Order Franciscans can be found in all walks of life, teachers, social workers, priests, bank clerks, pharmacists, students, taxi drivers.
If you are interested in finding out more about St Francis, St Clare and the Local Third Order, or feel a sense of vocation, please contact Roz Graham, Area Minister.
(The Canterbury Area stretches from the River Medway in the North with a line down to Hythe in the South. The area is East of this line.)
Prayer of Saint Francis of Assisi
Lord make me an instrument
of your peace.
Where there is hatred,
let me bring love;
where there is injury, pardon;
where there is doubt, faith;
where there is despair, hope;
where there is darkness, light;
and where there is sadness, joy.
Divine Master, grant that I may not so much seek to be consoled as to console;
to be understood as to understand;
to be loved as to love.
For it is in giving that we receive;
it is in pardoning that we are pardoned;
and it is in dying
that we are born to eternal life.
Amen
Ignatian Spirituality
Ignatian spirituality was inspired by St Ignatius Loyola (1491-1556) who, following his transformative experience of realising God's active and loving presence in his life, compiled a classic of Western Christian spirituality: The Spiritual Exercises, first printed in 1548. Originally the Exercises were intended to accompany a 30-day silent retreat. Today it is more common to go through the Exercises as a 'retreat in daily life', which involves a program of daily prayer accompanied by an experienced spiritual director lasting between 30 days and 12 months. Many people nowadays still find such experiences transformative and life giving. A fundamental aspect of Ignatian spirituality is that it does not dictate a path that must be followed; it does not claim to be anything more than a means of helping people to find freedom, to fully live the relationship between God and themselves revealed in Jesus Christ through the Scriptures. Through nearly five centuries, Ignatian spirituality has been for many, and continues to be, the way that has enabled them to express, in all dimensions of their lives, the image of God that each person most deeply and uniquely is, in the depths of her or his being.
Significant elements of Ignatian spirituality are:
A deep and growing awareness of God's presence in all things
A recognition of the generosity of God's grace
A deepening of prayer, through ways such as imaginative contemplation of the scriptures and a daily 'examen' prayer
A recognition of the activity of God within each person through reflection and discernment of the spirit
An active life of service which responds to the depth of prayer in discipleship.
The websites below offer further information and resources.
There is a Canterbury Diocese Ignatian Interest Group, which organises quiet days and study days for those interested in Ignatian Spirituality - contact Janet McDonald to find out more.