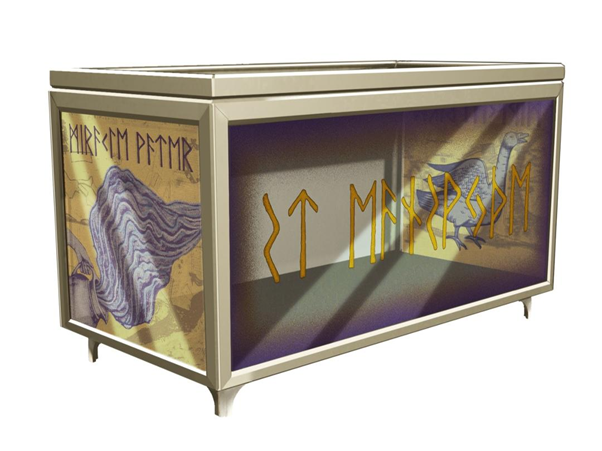 St Mary and St Eanswythe church celebrated the festival of its patron Saint Eanswythe by unveiling the design for a reliquary to house her remains.
The church alongside the Diocese of Canterbury held a competition to design the reliquary, with her remains previously being kept in a lead casket which had fallen into disrepair.
Artist Sophie Hacker was the winning designer, with her work drawing inspiration from ancient runes and the miracles associated with Eanswythe.
Talking about entering the competition, Sophie said: "I can't imagine when the last opportunity to make a reliquary has actually been possible for an artist - it's absolutely unique.
"This is such a rare event, and I'm a practicing Christian myself, so I'm very drawn to anything that brings faith alive."
Included on the judging panel was Dr Andrew Richardson from Isle Heritage. He delivered a talk about Eanswythe during the unveiling event.
Speaking of the winning design, Dr Andrew said: "We got many fascinating, beautiful designs, but this just ticked all the boxes that we wanted.
"We think it's respectful, it's contemporary, but it also speaks strongly to the Anglo-Saxon period."
Vicar in charge of St Mary and St Eanswythe church Revd Dr John Walker concluded proceedings at the unveiling event.
He finished by launching the fundraiser to fund the reliquary, which has now surpassed the target of £9,000.
Talking about the fundraising efforts, Revd John said: "Thank you so much to everyone who has contributed, whether large amounts or small.
"The new reliquary is just one part of our goal to develop St Mary and St Eanswythe church Folkestone as a pilgrimage centre dedicated to Blessed Eanswythe."
If you would like to contribute to the pilgrimage centre, visit the Just Giving page.