December 2022 - Good News Update
The pandemic had a considerable impact on the Ignite project with most plants unable to meet for significant periods of time and enablers on furlough or partial furlough for extended periods. Earlier in the year you will recall that we were successful in applying to the Church Commissioners for a Project Reset Request which funded a project extension to help make up for the lost time.
We've all been praying for the relaunch in each of the plants and waiting to see whether our guests would return. Well the results are in and I'm delighted to confirm that overall we have exceeded our relaunch targets and are in fact back to pre-pandemic numbers with just over 100 guests attending each week across the 7 plants!
Our grateful thanks go to our Project Leaders, Enablers, Host Incumbents and the amazing team of volunteers who have worked so hard in the re-launch. Well done! We have also been greatly encouraged by the many fantastic stories of how our guests have been meeting with God and becoming important members of our growing Ignite communities wherever they are on their faith journeys! We have been blessed that the Ignite model is now working effectively both with families and most recently a youth group, as well as with adults.
We know that there are many challenges ahead; the Omicron variant, growing our Ignite communities, continuing to encourage and build up our volunteer teams in preparation for sustainability when the Enablers leave and working out where else the Ignite model can help grow communities across the diocese and beyond. We hope that you will continue to join your prayers with the Project Board and give thanks to God with us. We are grateful to the Church Commissioners and to Benefact Trust for their financial participation in helping make this vital project possible.
Colin Evans - Strategic Programme Manager (on behalf of the Ignite Project Board) December 2021
Image: Baptism at Ignite Ashford, 15 December 2022

In Canterbury Diocese a pioneering café-style church, launched in Margate, is being used as a blue print for new worshipping communities – there are now nine in total. The £1.4million project has been made possible thanks to a grant of £887,015 from the Church Commissioners, a national body that exist to support the work and mission of the Church of England.
Why Ignite? Our DNA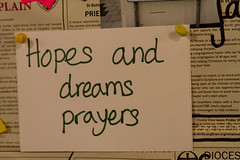 Firstly, Ignite is church, but it's probably not church as most people know it, because (in the main) most people – especially those living in our marginalised and social deprived communities – aren't coming to traditional church. So we try to be different and relevant, while still communicating the Good News of the Gospel.
In the parable of the sheep and the goats in Matthew 25, Jesus gives us our commission to look after the poor, the sick and the needy. This is what we try to do, by showing genuine, intentional compassion for other human beings. We do this by building relationships with people where they are, in their own communities.
God loves to bring people into community, into a knowledge of being loved and valued, through genuine friendships and relationships. This is Ignite's core DNA.
1 John 4:19 tells us that, "We love because God first loved us." So we intentionally try to work out that verse in all that we do. We love people, with no agenda, because God first loved us. We want people to feel comfortable and know that they are valued and loved, so that when the time is right – if they want to – they can choose to meet and know the risen Lord Jesus for themselves.
How Ignite engages with the local community
Our missioners go out of their way to intentionally serve and befriend people; to be relational people within their communities and to share God's love in whatever way it is needed. They imbed themselves into the local area, working out who the 'movers and shakers of that community are. Gradually, they become involved in the lives of local people and in the life of the community, in order to make a positive difference.
Our model of evangelism is relational; we want to show people that God is for them and not against them. When we go to where the people are and care about the things that they care about, we begin to earn the right to speak into their lives. Those who we work with often feel like they have been forgotten or cast aside because they are unimportant, unwanted, or undesirable. But we all know that God sees them differently. Jeremiah 29: 11 tells us that God has a plan and a purpose for us – for all of us, not just from some of us!
Our missioners do not rush into doing Ignite evenings. Each individual project takes somewhere between six and twelve months before an evening is launched, because genuine relationships and building friendships and trust, are absolutely key. We know that a weekly Ignite evening is probably ready to be launched, when the focus shifts from the missioners seeking out people, to the people actively seeking out the missioners.
How an Ignite evening works
Essentially, an Ignite evening is a game of two halves. The first half is what we call the 'meet and greet,' and the second half is known as the 'main event'.
The 'meet and greet' does what it says on the tin… as people come through the doors, we welcome, and chat with them for anywhere between 30 mins to an hour, building intentional relationships and friendships with them. During this time, food is always served, whether it's cakes, donuts, hotdogs, or a main meal.
Everybody is given a name label as they come in, so that everyone can be addressed by their name. We do this because someone knowing your name is incredibly powerful and affirming, especially if you are coming from a marginalised or deprived context and feel like you have no place in society. Isaiah 43:1 reminds us that 'God has called us by name and that we are his!'
The second half of Ignite is what we call the 'main event', which lasts around 45 mins to an hour.
It has something of the BBC's 'One Show' feel about it… because it is full of short, varied, interactive segments. We've done it this way, because many people coming to Ignite have short attention spans, or are not well educated and so short interactive, multi-media segments helps to keep their attention and enthusiasm..
Each week's main event always has a Christian theme, which might be subtle or very obvious. Thus, each event touches on our relationship with God, through Jesus. However, mixed into all of that is a very large and eclectic selection of other subjects that we might be wanting to teach on, such as lifestyle choices, anger management, forgiveness, how to live more ethically, or even how to live and shop within a budget! But a Christian theme always permeates all that we do. Prayer is always available at the end of the evening.
We might use video clips, table discussions, quizzes, short talks, craft activities, drama, and prayer responses. Occasionally, we might share Communion. Very regularly, we just hang out socially with each other for the whole evening.
Come and see
Check out the locations of our Kent-based Ignite projects on the map below.
St. Paul's Church - Margate
St Mary the Virgin Church - Ashford
St Andrew's Church - Herne Bay
Christ Church - Herne Bay
St Michael's Church - Sittingbourne
St Martin's Church - Maidstone
St John's Church – Guernsey
To get in touch with the Ignite team, please email our Ignite Project Leader Debbie Ellisdon or call 07946 918383 .