The care and support of the rural and farming communities is part of the work of the Communities & Partnerships team. With the monetary value of Kent's farming calculated to be worth £6 billion, the county rightfully deserves its reputation as the Garden of England.
We are involved with a number of projects, events and organisations which celebrate and support Kent's rural communities which include the following:
Rural Business Chaplaincy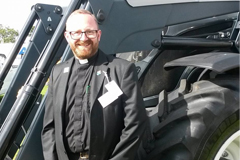 The Diocese has a chaplain dedicated to supporting those working in the rural business sectors of Kent and Sussex. The Revd Chris Hodgkins was the first person to hold this position in this Diocese, which was started as a joint venture between the Dioceses of Canterbury and Chichester and the Farming Community Network (FCN), a Christian charity which provides pastoral and practical support to farming families dealing with issues that cause them stress and anxiety.
While there are good opportunities for people to develop businesses and build employment in rural areas, there are challenges which can place a lot of stress on individuals, their relationships and families. Chris spent part of his time as a roving chaplain providing a pastoral presence at livestock and agricultural shows, ploughing matches, farmers' markets and seeking out those involved in business in small towns and remote locations.
Chris says:
The Rural Business Chaplain is a unique post which when set up attracted attention both nationally and internationally.
I work within Ashford Cattle Market and Hailsham Cattle Market as well as the Heathfield Agricultural Show, the South of England Agricultural Show and the Kent County Show.
As a Farming Community Network Chaplain I have many conversations with market users about the wide range of problems our farmers experience. Issues such as loneliness and isolation, mental health, dementia and succession as well as finance and TB are just a few of the concerns our farmers have. Each conversation shows how the lack of services in our rural communities is having an effect on those who live and work in rural areas.
Attending the cattle markets, agricultural shows, ploughing matches and various meetings across Kent and East Sussex continues to be a privilege as I build up relationships with our farmers, farmworkers and those who live and work rurally. Many people who I speak to are surprised that the 'church' takes an interest in the problems that they face! It is with those on the margins of society that we see Jesus interacting with in the Gospels, and so the Gospel message calls us to seek out those who live and work on the margins of our societies and share God's love with them.
Celebrating Harvest
Through the annual County Harvest Thanksgiving Service, and a variety resources, we can help you celebrate and give thanks for the produce of Kent and the work of the rural sector. Find out more here.
Farming Community Network
The UK's Farming Help organisations are reminding people in the farming community not to suffer in silence this winter. If you are experiencing tough times, or you are concerned about a neighbour or friend, please find out more here.