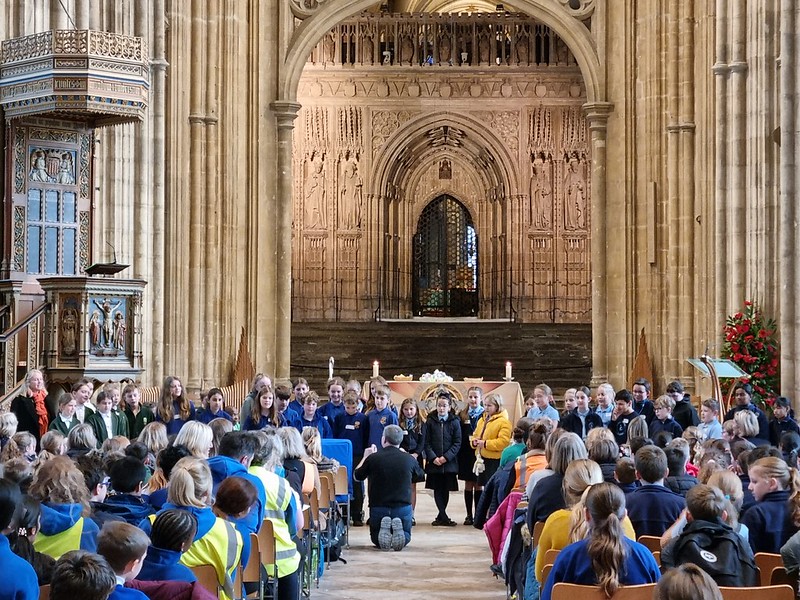 Over three days in early November, 850 children from 33 schools across Kent visited Canterbury Cathedral for the Cathedral Schools Days - the first on-site days in three years.
From 8 to 10 November, the year six pupils explored the Cathedral, focusing on a theme of looking after and preserving special places. The days gave children the opportunity to turn their hands to the ancient arts of stonemasonry and stained-glass window making, as well as engaging in drama, costume trails around the Cathedral and prayer spaces. In the afternoons, schools gathered together for inspiring pupil-led acts of worship in the Cathedral Nave. Each day the pupils were joined by an archdeacon, and Bishop Rose shared in worship with the schools on the last day.
Quentin Roper, Director of Education for Canterbury Diocese, reflected on the return of the Cathedral Schools Days following the Covid-19 pandemic: "After hosting the Days online for two years, it was tremendous to once more experience children enjoying the Cathedral, wondering at their surroundings and immersed in the activities and prayer carousels. Even better, the children who led worship, prayed and spoke about the gospel reading were open, assured and inspiring – a reflection of the extraordinary passion and commitment that our church schools have for living out their Christian vision."