"When the disabled are missing, the Christian community itself becomes disabled.'

The World Council of Churches

We are currently seeking to further develop our work in this area, by:
making sure churches are properly equipped and supported to help welcome disabled people into their communities
making sure disabled people themselves are valued equally, fully included, and able to contribute their gifts and skills
Link to other organisations and resources
The law
General information
General advocacy and resource groups
Sight loss
Deaf and hard of hearing
Dyslexia
The British Dyslexia Association – support for those with dyslexia and useful information to help make all aspects of an organisation more accessible. Including a useful downloadable resource guide to producing dyslexia friendly publications
Learning disabilities
Neuro divergent
Dementia
Mental health
Building and access
BISHOP'S ADVISER FOR DISABILITY
Karen Adams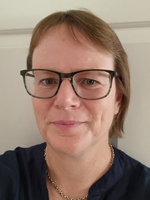 I have been involved with a number of different organisations in Kent and further afield, and access and disability work has always been a passion.

I sit on the Diocesan Disability Advisers Network and meet with colleagues from around the country. We explore how we can better ensure that disability, diversity and inclusion is fully included in the life of each diocese and I have established a working group within our own diocese to look at these issues and embed them within all the work that we do.
If you would like to talk anything through, please email me.