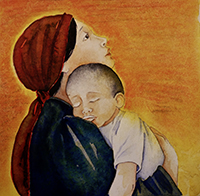 Our Diocesan Calendar of Prayer is published every month and features beautiful artwork by Primrose Northrop. If you'd like to receive the Calendar directly by email you can sign up to our mailing list here.
Each day we have the opportunity to pray with and for each other as we seek God's direction and continued blessing on all that we do in his name. Each benefice will be invited to contribute their prayer requests, stories and photos to our 'new look' Calendar of Prayer. Through our more deeply connected prayer we can build up our diocesan community of prayer.
Our Prayer Network is co-ordinated by Lyndall Bywater and our artist-in-residence Primrose Northrop oversees the Calendar of Prayer. They are always happy to hear from you and always welcome feedback. You can complete a simple form by clicking here for your story and prayer requests to be included.
December 2023: download an A4 pdf | download a booklet
November 2023: download an A4 pdf | download a booklet
Make a prayer request to be included in our Calendar
Our Calendar of Prayer includes requests for prayer and stories of where God is directing renewal and mission in our communities. These stories will enable us all to connect and pray with each other more deeply and help to encourage us all in mission growth.
To do this we need you to send us your prayer requests and stories. It only needs to be a few lines - about 100 words is ideal, and if you'd like to include a photo, that would be wonderful too.
You might like to share something about:
how your community is listening for God's direction through prayer
where God is calling your community to serve in your church, local area, wider world - the joys and the challenges!
how we might pray with you and for you
It would be great to include any chaplaincies, groups and organisations you are working with and specific mission teams working in your area.
Together let's pray more deeply, more intentionally, for and with each other, for God's direction in all that we do in His name.
Please complete this simple form for your story and prayer requests to be included.
Photos need to be emailed as an attachment to Primrose Northrop - we will assume that all photos received meet with your local safeguarding policy and data protection legislation.